Whether it's one class, professional development, or the start of a new degree, we offer options for both women and men to study this summer!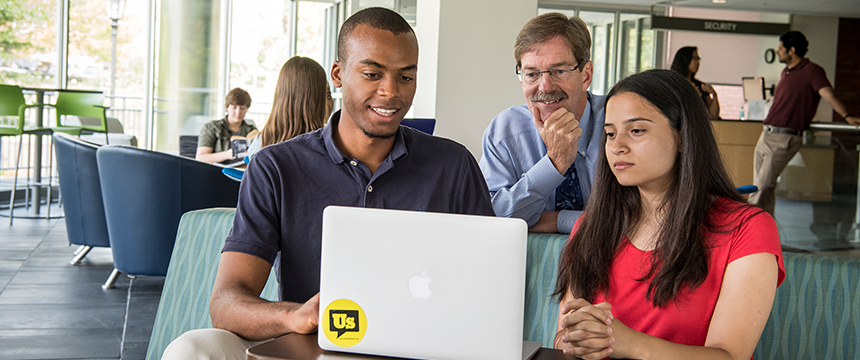 Sessions
Summer Full Term: May 21 - August 18
Summer Term 1: May 21 - July 2
Summer Term 2: July 9 - August 18
Summer Benefits
Access to fitness center and library
Close to area internships and employment
Opportunity to connect with international students on campus for the summer
Financial Aid
A portion of your annual financial aid may be available for summer if you are enrolled at least half-time throughout the entire summer semester.
Contact a financial aid counselor at finaid@ndm.edu or 410-532-5369 for more information.
How to Enroll
Contact us for more information or to schedule an appointment. Our enrollment managers can help you:
Apply
Register for summer classes
Review transfer credits
Discuss options for summer and fall study
Available Courses
Select "Students" tab
Click "Search for Sections" under the Registration section
Enter "Summer 2018 (Summer First 6 Weeks or Summer Second 6 Weeks)" under Term and preferences for two additional fields, then click Submit
Summer Full Term (Undergraduate)
IDS-361 Career Internship
IDS-461 Professional Internship
Summer Term 1 - 6 Weeks (Graduate)
BUS-521 Health Care Economics
BUS-551 Leadership's Dark Side
COM-515 Cross-Cultural Communication
EDGT-506 Theory & Development of Creativity
EDON-501 Infant & Child Mental Health
EDON-502 Early Childhood: Family-Centered Services
EDON-503 Early Childhood: Observation & Assessment
EDON-504 Early Childhood: Program Planning
EDON-505 Early Childhood: Typical & Atypical Development
EDON-511 Harassment, Bullying & Cyber-Intimidation
EDON-517 Advanced Classroom Management
EDON-525 Traumatized Child
EDON-530 An Introduction to Differentiated Instruction
EDON-531 Planning and Preparing a Differentiated Instruction Program
EDST-501 Exploration of Design, Technology & Engineering for K-8
EDU-509 Process & Acquisition of Reading
EDU-511 Assessment of Reading
EDU-519 Human Development & Learning
EDU-538 English Language Learners for the Classroom Teacher
EDU-542 Instruction in Reading
EDU-546 Methods & Materials for TESOL
EDU-551 Teaching Reading & Writing for the Content Areas Part II
EDU-552 Global Perspectives in Teaching
EDU-556 Technology for Instruction & Management
EDU-557 Leadership Seminar I
EDU-559 Leadership Seminar II
EDU-563 Curriculum Development
EDU-567 Learning Theory & Practice
EDU-569 Supervision: Empowering Teacher
EDU-575 Information Literacy Resources
EDU-580 Teaching Reading & Writing for the Content Areas Part I
EDU-584 Teaching Writing in the Elementary/Middle School
EDU-665 Digital Game-Based Learning & Design
EDU-703 Methods of Qualitative Research
EDU-760 Legislative/Legal Decisions for Changing School Populations
EDU-775 Democracy & Education: A Philosophical Perspective
EDU-800 Dissertation Continuation
ENG-508 Contemporary Literary Theory
ENG-511 Topics in Literature: Victorian Fallen Women
ENV-562 Exploration of Local Environments/Field Study
HOS-200 Topics in Hospitality & Events Management: Sustainable Eco Tourism in Baltimore
NPM-511 Topics in Nonprofit Management: Leadership's Darkside
NPM-520 Board Development & Human Resource Management in Nonprofits
NPM-531 Managing Financial Resources in Nonprofits
SPE-518 Behavior Is Language
SPE-526 Special Education Classroom Teacher
SPE-530 Attention Deficit Disorder
SPE-531 Autism & Asperger's Disorder
SPE-533 Understanding Aggression
SPE-570 Individualizing the Curriculum: Strategies for Holistic Intervention
SPE-571 Vocational Skills in Special Education Methods
SPE-576 Communication Skills for the School-Based Professional
Summer Term 1 - 6 Weeks (Undergraduate)
BIO-104 Chesapeake Bay
BIO-273 Introduction to Biological Research
BUS-411 Topics in Business: Leadership's Darkside
COM-106 Fundamentals of Oral Communication
COM-401 Writing for the Web
EDU-300 Technology for Instruction and Management
EDU-357 Process & Acquisition of Reading
EDU-402 American Education in Historical Perspective
EDU-460 Assessment of Reading
EDU-491 Topics in Education: Human Development & Learning
HIS-228 World History Since 1500
HIS-346 History of Middle Eastern Politics
IDS-310 Service Abroad: Women in Leadership & Service
IDS-361 Career Internship
IDS-461 Professional Internship
MAT-125 Elementary Math Models
RST-311 World Religions
SPE-337 Communication Skills for the Special Educator

Summer Term 2 - 6 Weeks (Graduate)
COM-610 Social Media for Professional
EDST-505 Prac: Teaching Stem Early Chlidhood Class Prac.
EDU-509 Process & Acquisition of Reading
EDU-510 Elementary Reading Materials
EDU-524 Topics in Education: Adolescent Literature
EDU-542 Instruction in Reading
EDU-556 Technology for Instruction & Management
EDU-557 Leadership Seminar I
EDU-560 Legal Issues for Teachers & Administrators
EDU-563 Curriculum Development
EDU-580 Teaching Reading & Writing in the Content Areas Part I
EDU-674 Global and International Perspectives in Education
ENG-519 Renaissance and Neoclassicism
ENV-561 Methods of Teaching Interdisciplinary Environmental Science
SPE-526 Special Education for the Classroom Teacher

Summer Term 2 - 6 Weeks (Undergraduate)
BIO-260 Genetics & Genomics for Clinical Practice
EDU-300 Technology for Instruction and Management
EDU-491 Topics in Education: Methods of Teaching Interdisciplinary Environmental Science
HIS-101 Dynamics of History
PHL-330 Ethics
RST-311 World Religions

Learn More About Admissions