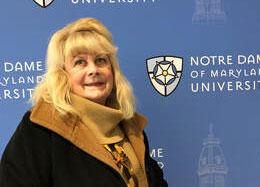 Victoria Karol
Associate Dean for Southern Maryland Higher Education Center
Education (School of)
Southern Maryland
VKarol@ndm.edu
301-737-2500 ext. 305
Programs I teach...
School of Education
Education
Ed.D. Educational Leadership, Nova Southeastern University, Florida. Dissertation: A Comprehensive Staff Development Plan to Enhance Teacher Induction
M.S., Administration and Supervision, Bowie University, Maryland
B.S., Elementary and Early Childhood Education, Towson University, Maryland
Bio
Dr. Victoria Karol started teaching courses for Notre Dame of Maryland University on January 4, 2000. She has taught courses, in southern Maryland, in the following areas: reading, library media, administration, supervision, and technology.
Dr. Karol recently retired, after 40 years of service, from Calvert County Public Schools. Listed below is a sample of the positions she held while employed with Calvert County Public Schools.
Director of Human Resources
Director of Strategic Partnerships and Community Engagement
Assistant Director of Human Resources
Assistant Director of System Performance
Assistant Director of Staff Development
Honors and Awards
Summa Cum Laude Graduate at Bowie State University, 1992
Nominated for the Maryland Academy of Development, 1989
Member of Who's Who Among Students in American Universities and Colleges, 1978-Present
Dean's List and Magna Cum Laude Graduate at Towson State University, 1978
Professional Memberships
Member of International Who's Who of Professional Management, 1997-Present
Member of Who's Who Among American Women, 1993-Present
Member of Who's Who Among American Educators, 1993-Present
Explore all faculty & staff