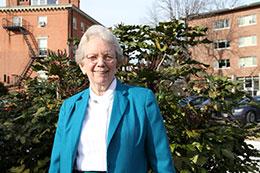 S. Mary Fitzgerald, SSND
Associate Professor
Courses I teach...
Administration and Supervision Practicum I
Administration and Supervision Practicum II
Leadership Seminar I
Global and International Perspectives on Education
Supervision in PLIAS program
School Leadership Licensure Assessment Review Course
Peace and Justice in Religious Studies
School of Education
Education
Th.D. La Salle University, Theology, Dissertation: Lay Ecclesial Ministry Formation Catholic School Administrators
M.Ed. Loyola University, Maryland, Educational Management and Supervision
M.A. La Salle University, Religious Education
B.A. Notre Dame of Maryland University
Bio
I joined the faculty at Notre Dame of Maryland University in 2007 after having taught at the secondary level for several years and been a high school administrator for twenty-three years. I firmly believe that education is the strongest force at our disposal for transforming attitudes of persons, societies, and the world. I feel empowered in my teaching at Notre Dame as we equip school leaders with the skills they will need to be outstanding instructional leaders. I enjoy and am impressed by the public school cohorts with whom I work. I am enthused by their energy and creativity. I also thoroughly enjoy working with cohorts of Catholic school administrators. I am energized by their dedication and thirst for development in faith and spirituality, as well as their commitment to academic excellence.
Recent Publications
Mary Fitzgerald, SSND and Anthony Sabatino, Ed.D.(2014). Leadership Succession Planning in Catholic Education: An On-going Plan for Leadership Development, Identification, and Selection. Arlington, VA: National Catholic Educational Association Publications.
Bridget Connor, GNSH and Mary Fitzgerald, SSND (2017). R Practicum Blueprint. Parker, CO: Outskirts Press, Inc.
Mary Fitzgerald, SSND. (2009). Educational Leadership and the Impact of Religious Charism. Momentum, Feb./Mar. 2009, 18-22.
Mary Fitzgerald, SSND. (2010). Students, Staff Join Sisters in Living SSND Charism in New Orleans Project. NAMA News, Jan./Feb. 2010.
Mary Fitzgerald, SSND. (2011). Shalom Thrives in Philadelphia. Shalom/UN-NGO Newsletter, Sept. 2011.
Mary Fitzgerald, SSND. (2018). Reflections on the Directional Statement. School Sisters of Notre Dame Newslink, Spring, 2018, 8.
Recent Presentations
Presenter at National Catholic Educational Association's Conventions in 2014, 2015, 2016, and 2018
Webinar for NCEA 2016
Presenter at Leadership Summit of the National Catholic Educational Association in 2017 and 2018
Podcast responder for NCEA on Lay Ecclesial Ministry Formation 2017
Professional Organizations
National Catholic Educational Association
National Association of Secondary School Principals
Association for the Study of Curriculum Development
Service
Board of Directors of the Academy of the Holy Angels, Demarest, NJ (2014-2020)

Chair of the Strategic Planning Committee

Board of Directors of the School of the Cathedral of Mary Our Queen, Baltimore (2012-2018)

Vice-chair of the Board
Co-chair of the Catholic Identity Committee
Member of the Strategic Planning Committee

Chair of the Board of Caroline House, Bridgeport, CT
Notre Dame of Maryland University

Faculty representative to the Board for Institutional Advancement
Faculty representative to the Board for Enrollment Management
Member of the President's Advisory Board for Institutional Advancement
Member of the Strategic Planning Committee
Member of the Administration and Supervision committee
Member of the Faculty Handbook Committee
Member of the Global Awareness Committee
Member of Advanced Programs Committee
Past member of the Academic Issues committee, the Honor Board, the Alternative Resources Committee
Supervisor of student interns
Coordinator of international internships for the School of Education
Current Chair of two dissertation committees
Reader for dissertations
Lector and Eucharistic Minister at Catholic Eucharist

School Sisters of Notre Dame

Past member of Mission Advancement Committee

Chaired a fund raising event which grossed $131,000 and netted $115,000
Served on search committees for new employees in Advancement

Member of planning committee for a symposium on the Trinity and Love Gives Everything
Organized and coordinated the SSND Build project to restore houses in New Orleans after Katrina from 2009-2012
Companioned a pre-associate who became an Associate in June, 2018

National Catholic Educational Association

Served on the Leadership Advisory Committee
Past member of the Executive Committee of the Secondary Schools Division
Participant in the Catholic Higher Education in Support of Catholic Schools (CHESCS)
Explore all faculty & staff