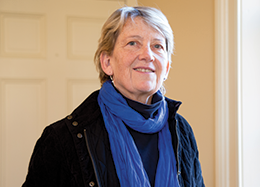 Melissa Falen
Associate Professor
Education (School of)
Marion Burk Knott (MBK) 226
mfalen@ndm.edu
410-532-3585
Programs I teach...
School of Education
Education
M.A. in Education, Fairfield University
B.S. in Health & Physical Education, West Chester University
Bio
I joined Notre Dame in 1989as an instructor in physical education and head field hockey and lacrosse coach. I am currently an associate professor, delivering health and wellness physical education courses for the general education curriculum. I also teach first year seminar for new students and work with the athletic department providing academic support for our student athletes. I teach wellness from an individual and a global perspective and developed a gender focused course which is a passion of mine: American Women in Sports History. I recently developed our first online physical fitness course.
During my coaching years, I represented Notre Dame in numerous elected and appointed positions, including serving on the U.S. Lacrosse Association Board of Directors, the Intercollegiate Women's Lacrosse Coaches' Association (IWLCA) Board of Directors, and chaired the NCAA women's lacrosse committee. More recently I have served on the Women's Sports Foundation (WSF) "Sports 4 Life" grants committee.
Over the years I have served on numerous Notre Dame committees and task forces, as well as most major institutional committees. My most recent service at NDMU includes the Faculty Senate, Grievance Committee, Honor Board, Chalk & Wire Committee and the Strategic Planning Committee Task Force on Student Life.
Recent Presentations
29th Annual National Service Learning Conference, 2018: Presenter: Making a Difference
Common Ground Sport & Society Conference: Special Focus - Sports Impacts: Reshaping Cities, Environments, People, 2018: Focused discussion presenter: Making a Difference : A Mentoring Program Partnering a Collegiate Sports Team with an Inner City Public Middle School Team
Title IX invited speaker to Digital Harbor HS, talk for female student athletes, emphasizing gender equality and how to address inequities, 2014
Title IX invited speaker for panel discussion at IWLCA convention and annual meetings, 2012
Women in Baseball in recognition of National Girls a& Women in Sports day and Women's History Month, Lecture at Loyola/College of Notre Dame Library, with Erin Foley 2011
Professional Associations
Society of Health & Physical Educators (SHAPE)
American Association of University Professionals (AAUP)
National Association for Girls and Women in Sports (NAGWS)
National Association for Sport and Physical Education (NASPE)
Honors and Awards
Awarded United States of America Pickleball Association USAPA equipment grant, 2016
NDMU President's Medal, 2014
Inducted to NDMU Athletics Hall of Fame, 2014
Awarded USL Will 2 Win Grant 2011
Awarded USL Will 2 Win Grant, 2010
Tenure, 2007
Explore all faculty & staff