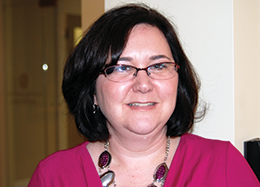 Lisa Pallett
Assistant Professor
Programs I teach...
School of Education
Education
Ph.D., Instructional Leadership for Changing Populations, Notre Dame of Maryland University. Dissertation: The Preparedness of Candidates and Graduates from Maryland Universities to Teach Using Elementary Mathematics Standards.
M.S., Curriculum and Instruction, Elementary Mathematics, Western Maryland College.
B.S., Elementary Education, Towson State University.
Bio
Prior to teaching at Notre Dame, I was an elementary classroom teacher, mathematics resource teacher, mathematics intervention teacher, and mathematics coach. I have been at Notre Dame since 2009. Since then, I have taught in the School of Education in both the undergraduate and graduate programs. My focus is on providing high quality instruction to preservice and in-service elementary teachers with a focus on mathematics. In my courses, I strive to model effective teaching practices and provide my students with content and pedagogical knowledge to be effective educators.
I have represented Notre Dame in a variety of professional associations and at conferences. I have served as a board member of the Association for Maryland Mathematics Teacher Educators. I have also presented at a variety of National Council of Teachers of Mathematics Conferences. Additionally, I am an edTPA national scorer and have presented at local and national edTPA conferences.
At Notre Dame, I have served on School of Education committees, including the Professional Development Schools Committee and the edTPA committee. I have also served on the institutional Middle States Committee and the Research Day Committee.
Recent Publication and Presentations
"Down the Rabbit Hole: The Journey to Successful edTPA Implementation at a Small University" Co-presented with Dr. Angela Snyder at National edTPA Implementation Conference, San Jose California and Maryland State edTPA Conference, Salisbury, MD.
"Teacher Educators and Elementary Math Instruction: Two Technology "Novices" Use Free Technology in A Teacher Preparation Program" Co-authored with Dr. Angela Snyder. Published in International Journal of Education and Human Developments, Vol.3, No.2, March 2017.
Explore all faculty & staff