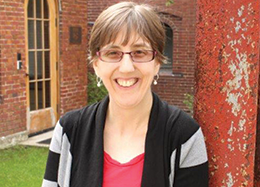 Heather Carpenter
Associate Professor
Programs I teach...
Education
Ph.D. in Leadership Studies, with a Specialization in Nonprofit and Philanthropic Leadership and Management, University of San Diego.
MM in Nonprofit Administration, North Park University.
BS in Business in Administration, San Diego State University.
AA & AS, Cottey College
Bio
My passion and mission is to help people run more effective nonprofit organizations and to prepare people for nonprofit careers. I am active on social media - you can find me on Twitter @heathercarpente, linkedin: heathercarpenter2, or instagram @professorcarpenter where I post items related to important trends in the areas that I teach.
I am Associate Professor, Chair of the Business & Economics Department, and Program Coordinator of the MA in Nonprofit Management. I teach graduate and undergraduate courses in Nonprofit Management, Business, Marketing, Communications, Strategic Planning, Nonprofit Financial Management, and Human Resources. I am the co-author of the book The Talent Development Platform: Putting People First in Social Change Organizations and I have published articles on the topics of talent management, experiential education, nonprofit management education, and nonprofit leadership. Each semester my students and I conduct applied projects with local nonprofit organizations, such as social media plans, financial sustainability plans, talent development plans, board manuals etc. I also enjoy conducting customized trainings for organizations across the United States on a variety of topics such calculating your return on investment for talent, identifying nonprofit management competencies within your organization, and how to develop your internal talent.

Prior to joining the faculty at NDMU, I served as Assistant Professor in the School of Public, Nonprofit, and Health Administration at Grand Valley State University, as research associate in the Caster Family Center for Nonprofit and Philanthropic Research at the University of San Diego, and as Operations Manager for several nonprofit organizations in California and Illinois. My husband is a commercial pilot for Spirit Airlines and we have a five-year old daughter.
Selected Publications
Carpenter H. (2017). Talent Management within Nonprofit Organizations. Eds. Word and Sowa. The Nonprofit Human Resource Management Handbook: From Theory to Practice. Taylor & Francis.

Carpenter, H. (2017). Curriculum Mapping Models and other Processes that Might Work for Nonprofit and Philanthropy Accreditation. Journal of Nonprofit Education and Leadership. Pp. 111-117.

Carpenter, H. (April 2017). Teaching and Training in Nonprofit Organizations. Ed. Ali Farazmand. Global Encyclopedia of Public Administration, Public Policy, and Governance. Springer.

Carpenter, H. (2016). Perceptions for a Professional Doctorate in Philanthropy Program. Journal of Nonprofit Education and Leadership. 6(3). 224-242.

Carpenter, H., Qualls, T. (2015). The Talent Development Platform: Putting People First in Social Change Organizations (pp. 600) San Francisco: Jossey-Bass.

Carpenter, H., Adler, S. (March 2015) Peer-to-Peer Fundraising Success: PAWS With A Cause. In Hugo Asencio, Rui Sun (Eds.). Cases on Strategic Social Media Utilization in the Nonprofit Sector. Hershey, Pennsylvania: IGI Global.

Carpenter, H. (2014). A Look at Experiential Education in Nonprofit-Focused Graduate Degree Programs. Journal of Nonprofit Education and Leadership, 4(2), 114-138.

Word, J., Carpenter, H. (2013). The New Public Service? Applying Public Service Motivation Model to Understanding the Motivation of Nonprofit Employees. Public Personnel Management (IPMA-HR), 42(315-336).

Carpenter, H. (2011). How we could measure community impact of nonprofit graduate students' service-learning projects: Lessons from the literature. Journal of Public Affairs Education, 17(1), 115-131.

Altman, S., Carpenter, H., Deitrick, L., Strom, S. A., Van Horn, T. (2012). Impact of the Nonprofit Leadership Alliance, an Undergraduate Competency-Based Nonprofit Program, on Alumni Career Paths. Journal of Nonprofit Education and Leadership, 2(3), 123-139.

Carpenter, H., Krist, P. (2010). Practice makes perfect: A study of the impact and use of nonprofit master's students' applied projects on nonprofit organizations in the San Diego region. Journal of Nonprofit Education and Leadership.
Professional Affiliations
Association for Research on Nonprofit Organizations and Voluntary Action (ARNOVA)
Nonprofit Academic Centers Council (NACC)
Nonprofit Leadership Alliance
Maryland Nonprofit Association
Young Nonprofit Professionals Network
Network Under 40
Emerging Leaders United
Explore all faculty & staff