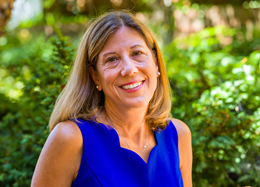 Deborah Calhoun
Professor
Business & Economics Department
Fourier Hall (FOU) 305
DCalhoun@ndm.edu
410-532-5505
Programs I teach...
School of Arts, Sciences & Business
Education
Ph.D. in Instructional Leadership for changing populations, Notre Dame of Maryland University Dissertation: Teaching Teamwork to College Students through Cooperative Learning: Faculty Attitudes and Instructional Best Practices
M.B.A. with Management Concentration and Master's Plus Certificate in International Business (15 credits beyond the M.B.A.), Loyola University Maryland
B.A. in Marketing, Michigan State University
Bio
I am energized by the university's mission to "educate persons to transform the world." I believe teaching is more than introducing students to new information and ideas; it is challenging how they think, broadening and deepening what they think about and teaching them how to continue the learning process outside of the classroom.
My years of professional experience in marketing and management prior to joining NDMU significantly inform my teaching and academic advising. My assignments are application oriented and provide students with opportunities to master the technical content of the course while simultaneously strengthening communication, critical and reflective thinking, research, leadership and teamwork skills.
I teach courses in marketing, teamwork, leadership, negotiation, customer service and research. In addition to teaching, I serve as the chair of the Business and Economics Department, the co-champion for the department's accreditation activities and co-direct the First Impressions program. The goal of First Impressions is to help students gain the confidence and professional skills necessary to stand out among the competition and assist in their transition from classroom to boardroom.
Recent Awards
Notre Dame of Maryland University - The Mullan Distinguished Teacher Award (May 2014)
The School Sisters of Notre Dame Mission and Ministry Award (February 2013)
Peer Reviewed Publications & Presentations
Impact of Organizational Culture in Leading Change. Case study accepted for publication in Lessons in Changing Culture by D. D. Warrick, RossiSmith Academic Publishing, Oxford, UK (2014)
Cooperative Learning and Team Projects in the Postsecondary Classroom: Faculty Motivation and Instructional "Best Practices". Paper accepted for presentation at American Educational Research Association 2014 Annual Meeting, Chicago, IL. April 2015.
Do Not Do It Alone: Help Students Develop Their Professional Identity through Business Partnerships. Presented at the ACBSP Region 2 Best of Region Competition, Partnering with Business for Student Success, Washington, D.C. November, 2014.
Temporal Distortions: Innovative Sequencing in the Leadership Classroom. Co-presented with Elizabeth Jones . Presented at the ACBSP Region 2 Best of Region Competition, Engaged Learning in the Digital Age, York, PA. November, 2013.
Bridging Leadership and Teamwork: Team-based Learning for Decision-making and Interpersonal Skills. Co-presented with Elizabeth Jones. Workshop presented at the Fourteenth Annual Conference, International Leadership Association, Denver, CO. October 2012.
Online, On-site, or Blended: Dilemmas in Remapping Delivery of Leadership Education. Workshop co-presented with Elizabeth Jones. Thirteenth Annual Conference, International Leadership Association, London, UK. October 2011.
Achieving Significant Scale with Accelerated Degree Programs - Panel Member. Lumina Conference Educational Attainment Strategies for working Adults and Non-traditional Students: Applying new Models in Post- Secondary Education. Indianapolis, IN. May 2009.
Professional Affiliations & Memberships
American Marketing Association
International Leadership Association
American Educational Research Association
Maryland State Advisory Group: Business, Management, Finance Cluster
Kappa Gamma Pi National Catholic College Graduate Honor Society
Phi Beta Delta International Honor Society in International Education
Delta Mu Delta International Honor Society in Business
Kappa Delta Pi International Honor Society in Education
Explore all faculty & staff