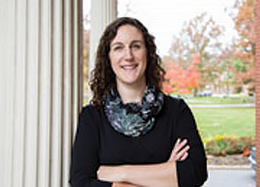 Becky Zordan
Assistant Professor, Pre-Professional Advisor
Biology Department
Knott Science Center (KNO) 343
rzordan@ndm.edu
410-532-5722
Programs I teach...
School of Arts, Sciences & Business
Education
University of California San Francisco, Ph.D. in Biochemistry, 2008
Cornell University, B.S. in Biology, 2002
Research Interests
Yeast genetics
Transcriptional regulation
Professional Affiliations and Memberships
American Society for Microbiology (ASM)
Association for Biology Laboratory Education (ABLE)
National Association of Advisors for the Health Professions (NAAHP)
Publications
Zordan RE, Beliveau BJ, Trow JA, Craig NL, Cormack BP. 2015. Avoiding the ends: internal epitope tagging of proteins using transposon Tn7. Genetics. 200(1):47-58.
Zordan RE, Ren Y, Pan S-J, Rotondo G, De Las Peñas A, Iluore J, Cormack BP. 2013. Expression plasmids for use in Candida glabrata. G3-Genes/Genomes/Genetics. 3(10):1675-1686.
Zordan RE, and Cormack BP. 2012. Adhesins in Opportunistic Fungal Pathogens. In: Calderone RA and Clancy CJ, editors. Candida and candidiasis, 2nd ed. Washington DC: ASM press. p. 243-259
Lohse MB, Zordan RE, Cain CW, Johnson AD. 2010. Distinct class of DNA-binding domains is exemplified by a master regulator of phenotypic switching in Candida albicans. PNAS. 107(32):14105-14110.
Zordan RE*, Miller MG*, Galgoczy DJ, Tuch BB, Johnson AD. 2007. Interlocking transcriptional feedback loops control white-opaque switching in Candida albicans. PLoS Biology. 5(10):e256. *indicates equal contributions by these authors.
Zordan RE, Galgoczy DJ, Johnson AD. 2006. Epigenetic properties of white–opaque switching in Candida albicans are based on a self-sustaining transcriptional feedback loop. PNAS. 103(34):12807-12812.
Typical Courses Taught
Genetics (BIO 239)
Biochemistry I (BIO/CHM425)
Biochemsitry II (BIO/CHM426)
Explore all faculty & staff