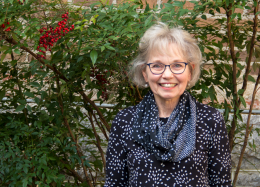 Anna Dolina
Associate Faculty
English Language Institute (ELI)
Feeley International Center (FIC) 016
ADolina1@ndm.edu
410-532-5566
Being raised in a bilingual home gave Anna a genuine understanding of the challenges her students face when living and communicating across cultures and languages.
Her native language is Czech and she learned English at school and by reading books with her mother. In college, she studied French and Spanish. In addition, Anna lived in India and learned Hindi.
She began teaching at the ELI in 2008 after retiring from a career in social work. Anna's hobbies include traveling, attending lectures and concerts, reading, cooking, and listening to public radio.
Anna holds a B.A. from McDaniel College, an M.Ed from Johns Hopkins University and a M.A. in TESOL from NDMU.
Explore all faculty & staff