The Bonner Leaders Program is a four-year scholarship program that supports a strong team of students working to bring about positive community change through service, research, and action.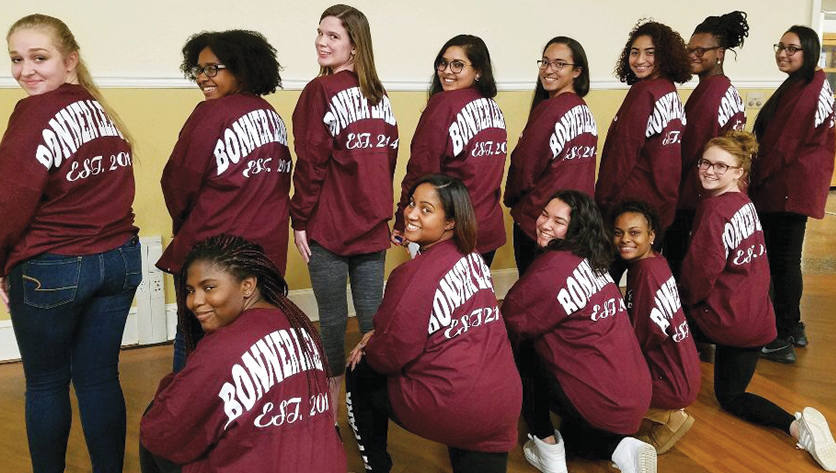 What is a Bonner Leader?
Bonner Leaders live and breathe service. As the only university in Maryland with a Bonner program, NDMU develops Bonner Leaders to build close relationships with non-profit community partners and immerse themselves in the reality of the population they serve.
Bonners start by learning the strengths and needs of the non-profit before gradually increasing their role and responsibilities to tackle various social issues. Service is designed to align with academic goals and career aspirations so that Bonners will graduate with resume-boosting skills, knowledge, and experience.
Over the course of four years, the role of Bonner Leaders evolves in the following ways:
Direct Service
Education and Reflection
Service Leadership
Capacity-Building/Social Action
Bonner Commitment
All students are required to:
Volunteer for 300 hours a year (150 hours per semester)
Attend one and a half hours of personal, professional and/or leadership training biweekly on topics such as time management, conflict resolution, poverty reduction, and education reform
Maintain a minimum 2.5 GPA each semester
Attend orientation and all Bonner meetings
Qualifications
Accepting applications from incoming freshman and rising sophomores
Must exhibit a dedication to service
Must be admitted into Notre Dame
Must be a student who will use campus housing
Award
Students receive scholarship funds to be used toward on campus housing expenses.
How to Apply
Applications for incoming freshmen and rising sophomores will be released in early Spring 2021.
Award Notification
Students will be notified and interviewed by The Bonner Leadership team.
Finalists who are unable to attend the in-person interviews will be able to interview via Skype or phone.
Contact Us
For more information, please contact Emily Donlon, the Bonner Program Director, at edonlon@ndm.edu.