July 12, 2018
Grant Awarded for Second-Degree Bachelor of Science in Nursing Program
The School of Nursing has been awarded $965,927 to start an accelerated second-degree bachelor of science in nursing program.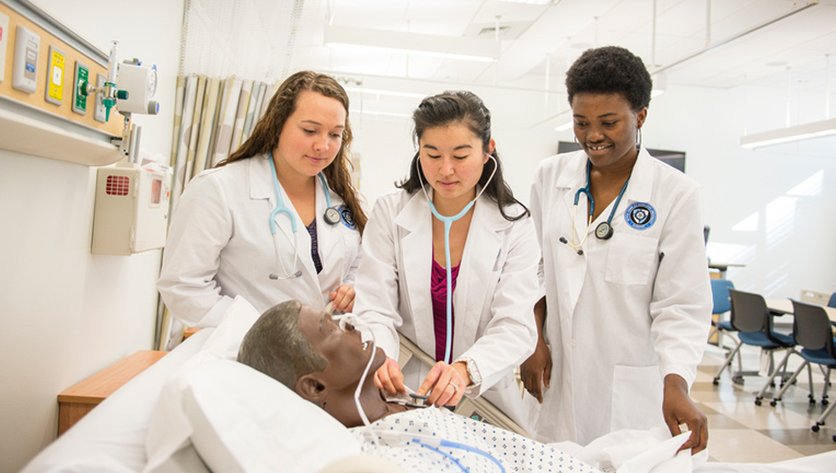 The School of Nursing at Notre Dame of Maryland University has been awarded a Nurse Support Program II (NSP II) Competitive Institutional Grant of $965,927. The NSP II Program is funded by the Health Services Cost Review Commission (HSCRC) and administered by the Maryland Higher Education Commission (MHEC).
The three-year grant, Accelerated Second-Degree Baccalaureate: A Caring Science Approach, will provide an accelerated second-degree baccalaureate program to increase the overall number of new baccalaureate-prepared nurses in the State of Maryland. The overarching goal for this project is to increase the number of baccalaureate-prepared nurses who can serve in Maryland hospitals and healthcare facilities and are prepared to care for poor, underserved, and marginalized populations within a framework of caring science. The grant award will primarily be used to support activities addressing the development, start-up, implementation, and evaluation of the accelerated second-degree baccalaureate program.
This program is designed for students who have completed a bachelor's degree in a non-nursing field and want to change career direction. It will take 15 months to complete, excluding required pre-entrance courses. Upon successful completion of the program, graduates are eligible to apply for licensure as a registered nurse. Graduates must pass the National Council Licensure Examination (NCLEX-RN) to practice as licensed registered nurses.
Students attracted to a second baccalaureate degree in nursing typically have clear career goals with final educational objectives. It is goal of the School of Nursing to create a seamless transition into the Master of Science in Nursing (MSN) program. Students who successfully complete the baccalaureate program, will have a guaranteed seat in the MSN program. Some course work will be accepted as credit requirements in the MSN program, thus further streamlining the educational process.
Kathleen Z. Wisser, Ph.D., RN, CNE Dean of the School of Nursing at NDMU states, "Educating more nurses who hold baccalaureate degrees in fields other than nursing further enriches the profession. Life experiences from careers in business, technology, economics and other fields will assist in creating a strong, more well-rounded, and experienced nursing workforce." Dr. Wisser goes on to say, "The project responds to the need to increase the number and diversity in the pool of nurses and nurse leaders within the State through active recruitment, development, and support of underrepresented nursing students."
Deborah Naccarini, Ph.D, RN, CNE Associate Dean of Entry-Level and Dual Enrollment Programs will act as the Project Director in collaboration with Diane Aschenbrenner, MS, RN and Jane Balkam, Ph.D., APRN, CPNP, IBCLC.