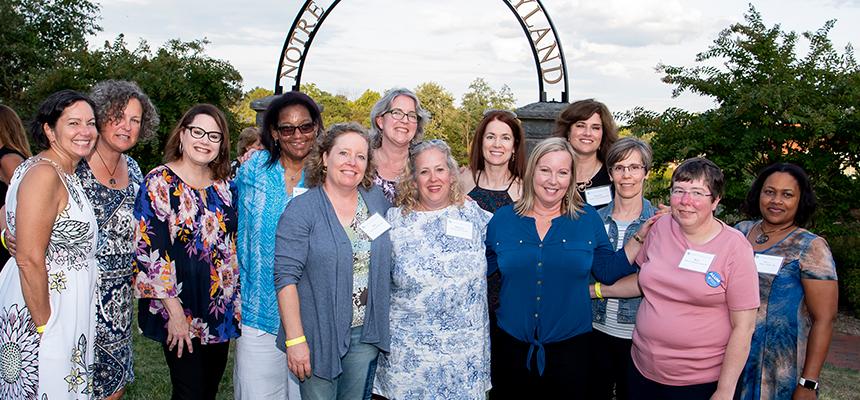 Announcing...
Virtual Reunion 2020:

Held on and around October 9-11, 2020
The format of Reunion 2020 has been a hot topic of conversation for many months now. The big question was: how would we be able to bring Reunion to life while maintaining the safety and well-being of our alumnae and alumni attendees while considering the risks involved with travel and gathering during COVID-19?
The University is preparing to open in the fall with an adjusted academic calendar, hybrid courses, physical distance requirements and many other safety measures to ensure our community's health. To align with those safety measures, the University, with special consideration, has decided to move the Reunion 2020 festivities to an online format.
With the input you provided on the draft schedule, we are now working to transition all of the fun, connectivity with classmates and Notre Dame spirit to this new virtual format. The survey is now closed and a final schedule will be available in the very near term.
We hope you will join us for one of two opportunities to ask questions and learn more about Virtual Reunion in the coming days/weeks. Open forums will be held through the "How Do You Fix Your Coffee?" series on July 9th at 9-10 a.m. EST and July 13th at 7-8 p.m. EST. Email aross@ndm.edu to retrieve the Zoom login information for either event.
Thank you,
Aliza Ross
Director of Alumnae and Alumni Relations
---
Reunion Giving
Giving is a significant part of "showing up" at Reunion. Why? Because the more individuals who support Notre Dame financially, the higher our community's chances are of receiving grants, showing the strength of our alumnae and alumni community to perspective students, and overall, supporting current students' needs.
2019 Winners
Highest Class Gift Total: Class of 1969
Highest Gift Participation Rate: Class of 1959
Largest Number of Reunion Attendees: Class of 1969
---