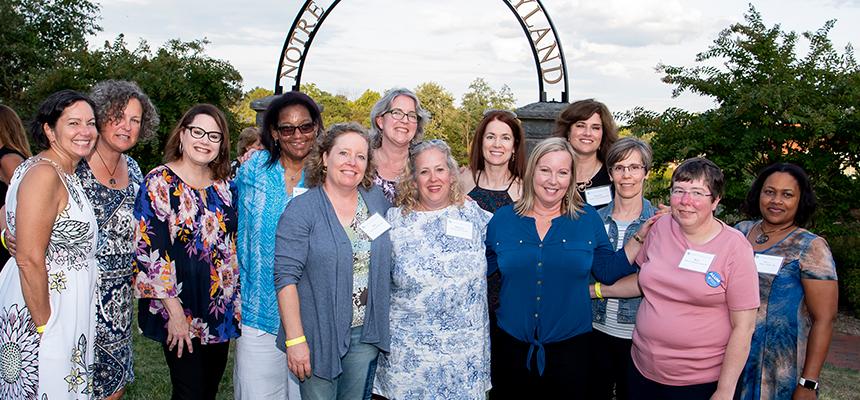 There's no plane ticket or hotel stay required--Reunion is VIRTUAL! We're excited to see many of you from across the globe for five days of Reunion activities. Share that you'll be with us by using #NDMUreunion on your preferred social media platforms.
Over 200 of your fellow alumnae and alumni have signed up to attend. It's time you did too. Join us for awards, profession sessions, interfaith discussion and much more.
All registrants, and registrants only, will receive an email on October 1 with access links to all the available Reunion events. For security reasons, links to the events will not be shared on our website or on social media.*
We plan to use Zoom to host Reunion events. Many of you are already familiar with the platform. Still, we are pleased to offer an opportunity to explore Zoom in a low-risk way with our staff. Email ndmalum@ndm.edu​ if you are interested in this practice session. More information will then be emailed to you:
Thursday, September 24 at 6 p.m. EDT
*Reunion Mass is taking place on Sunday, October 11 at 11:00 a.m. ET and will be available to all viewers with no registration needed and no charge associated with access. It will be available over live-stream. This is the only event that will be broadcast in a public way.
---
Reunion Giving
Giving is a significant part of "showing up" at Reunion. Why? Because the more individuals who support Notre Dame financially, the higher our community's chances are of receiving grants, showing the strength of our alumnae and alumni community to perspective students, and overall, supporting current students' needs. We share in a friendly giving competition each year. The 2020 winners will be announced during the virtual Alumnae and Alumni Award Presentations on Saturday, October 10.
2019 Winners
Highest Class Gift Total: Class of 1969
Highest Gift Participation Rate: Class of 1959
Largest Number of Reunion Attendees: Class of 1969
---