RN to BSN
Major
The RN to BSN program embraces diversity and commitment to social justice, emphasizing health promotion in vulnerable populations with elimination of health disparities. Designed for professional nurses, the curriculum begins with an exploration of caring science and progresses dynamically to provide preparation for the challenges and opportunities of the contemporary health care environment.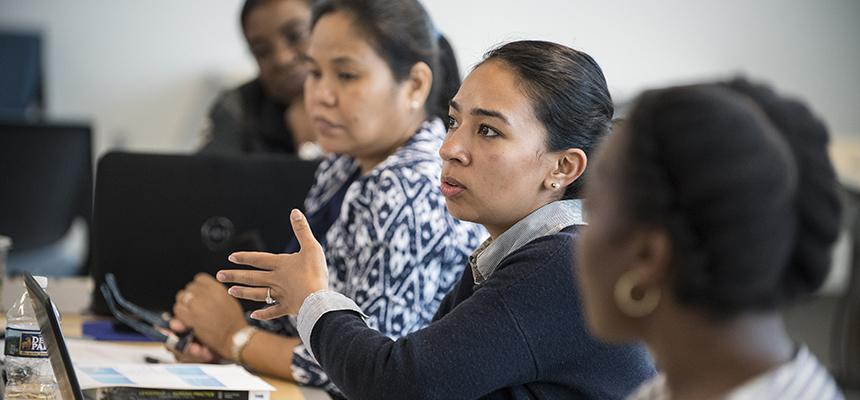 Program Locations
The Bachelor of Science in Nursing (BSN) at NDMU
Notre Dame offers three ways to secure a BSN:
Transfer Credits
All registered nurses admitted to the program will enter under the Maryland RN to BSN Articulation Model:
Up to 68 college credits will be accepted in transfer.
All RNs with an active license in Maryland or a compact state will be granted 30 upper-level nursing credits per the Articulation Model.
RNs will complete the remaining 31 upper-level nursing credits and any additional program requirements through Notre Dame.
A minimum of 30 earned credits from Notre Dame is required for graduation. The final 30 credits for the degree must be earned at Notre Dame.
Additional Study Options
Our Philosophy
The practice and study of nursing is experienced as as a journey through deep caring connections with patients, students, colleagues and the discipline of nursing. Nursing is imagined and known through caring authentic presence with others and multiple ways of knowing.
Nursing is a presence to life lived with those entrusted to our care, a beacon, attentive to the extraordinary in the mundane and boldly entering questions of meaning. All stories of individuals and of the discipline are valued as necessary to the growth and advancement of the profession.
Healing practice is possible in partnership relationships; nursing creates safe welcoming places, encouraging growth, seeking to understand and knowing each other's hearts.
Nurses are called to care through advocacy, action, 'power-with' and trusting relationships with persons and groups in diverse settings. Nursing embraces diversity and commitment to social justice. With perseverance and fortitude, caring and compassion are preserved as the ethical foundation of nursing practice and scholarship.
A nursing way of being requires reflective practice, a listening, that allows for meaning-making in all dimensions of academic and practice endeavors. Nursing practice is characterized by thoughtfulness and necessarily lived out with intention.
The Course of Study allows for possibilities for our mission to be realized—educating nurses to transform the world.
Curriculum
Credits Needed from Notre Dame
A minimum of 30 earned credits from Notre Dame of Maryland University is required for graduation. The final 30 credits for the degree must be earned at Notre Dame of Maryland University.
Specific course requirements for the RN to BSN program include:
General Education requirements (24 Credits)*
200-level Philosophy (3)
200-level Religious Studies (3)
300-level Philosophy (Ethics or Moral Issues) (3)
300/400-level Religious Studies (3)
English Composition (3)
Literature (3)
History (3)
Math (Basic Statistics) (3)
*The General Education Requirements for Natural and Social Sciences are part of the Department requirements.
Please Note: As part of the degree program (120 credits) at least one course must be focused on Gender Studies and one on Cross-Cultural Studies. Students who take the upper-level Religious Studies course as part of the accelerated sequence will fulfill the Gender Studies requirement through that course. The Cross-Cultural Studies requirement will be fulfilled through the upper-level nursing course NUR-412 Population Health through a Caring Lens. NUR-412 is a required nursing course. Students who have earned an Associate Degree prior to admission to the University are exempt from the Gender and Cross-cultural Requirement. However, most students will need to complete the upper-level Religious Studies course at NDMU in order to fulfill General Education Requirements;
Department Requirements for the Nursing Major (21 credits)
Core
Human Anatomy & Physiology (6-8)*
Microbiology (3-4)*
Introduction to Psychology** (3)
Human Growth & Development ** (3)
Introduction to Sociology (3)
Genetics and Genomics for Clinical Practice (3)
*Lab Required
**Challenge Exam Available
Upper-level Nursing credits from an Associate Degree or diploma program granted through Maryland Nursing Education Articulation Model (30 credits)
Upper-level Nursing courses at Notre Dame (31 credits)
NUR-306 Writing for Professionals (1)
NUR-319 Holistic Health Assessment & Nutrition Across the Lifespan for Professional Nurses (5)
NUR-400 Information Systems for Caring Practice (3)
NUR-411 Healthy Aging for Professional Nurses (3)
NUR-412 Population Health through a Caring Lens (4)
NUR-420 Nursing Research for Professional Nurses (3)
NUR-440 Caring Nursing Leadership for Professional Nurses (3)
NUR-450 Capstone Experience (2)
One Nursing Elective:
NUR-314 Nursing Situations in Palliative Caring (3) or
NUR-315 Advocacy, Politics and Power (3) or
NUR-316 Spirituality in Nursing Practice (3)
International/Study Abroad Opportunities
Special topics focused on nursing practice may be taken in partial fulfillment of select nursing courses. Contact the School of Nursing at 410-532-5526 for more information.
What to Expect Studying at Notre Dame of Maryland University
Small class sizes, faculty mentoring, and hands-on experiences offer an environment of individualized learning while clinical, service-learning, and study abroad provide opportunities to transform the world.
Accelerated Format
Courses range from five to 10 weeks in length with classes meeting at times that are convenient for working students.
An RN with an Associate Degree in Nursing can complete a bachelor's degree in two and a half years.
Cohorts
Join one of the program's cohorts to be part of a supportive group of peers that study and attend classes together.
Toggle between the photo and the story
Best Nurse in Baltimore
Student, NDMU Class of 2019
RN to BSN, Nursing - Leadership in Nursing Administration
Read story
Research & Internship Opportunities
As a nursing student, you will have research opportunities both in the classroom and in clinical practice.
In nursing, we teach the value of advocacy; advocacy for patients and their families. Research assignments are often built on this outcome and the School of Nursing's mission overall.
Clinical Experiences
You will have an opportunity to gain experience in a clinical setting by working with patients and their families under the supervision of a clinical instructor.
Clinical Sites Include
University of Maryland Medical Center
Johns Hopkins Hospital
University of Maryland St. Joseph's Medical Center
Mercy Medical Center
Greater Baltimore Medical Center
Good Samaritan Hospital
Simulation Labs
In addition to clinical sites, you will also spend time in our state of the art simulation labs which allow you to practice your response to realistic medical situations in a safe environment.
Study Abroad
Participate in study abroad opportunities to gain a unique global perspective while also partially fulfilling requirements of select nursing courses.