Radiological Sciences
Major
Our Radiological Sciences program partners with The Johns Hopkins Hospital School of Medical Imaging (JHSMI) to offer both a baccalaureate degree and a pathway to clinical certification in order for you to become a licensed medical imaging technician.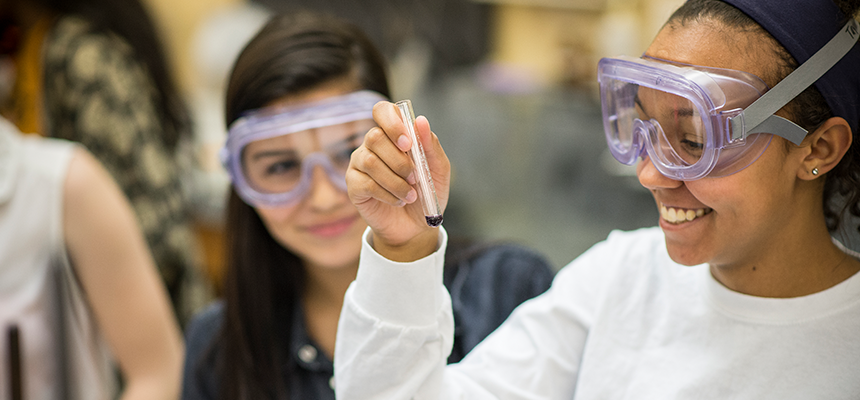 Program Locations
Available Majors
Clinical Certification Programs
Radiography - 18 months
Nuclear Medicine Technology - 18 months
Diagnostic Medical Sonography - 14 months
Echocardiography - 14 months
Admissions Information
Admission to clinical certification programs is highly competitive and acceptance can not be guaranteed.
It is important to thoroughly understand the admissions criteria for your clinical program of interest and regularly confer with the program coordinator as you prepare for clinical study.
How It Works
Complete all requisite general education, mathematics, and science courses at Notre Dame.
Apply to the full time clinical program at JHSMI in the fall semester prior to the start of the program.
Complete all requirements of the clinical certification program.
Choose one of two options for professional training and complete requirements to be awarded a bachelor's degree.
Pass the national registry exam to become a licensed medical imaging technologist.
Professional Training
Option 1 - Two Clinical Concentrations
Note: Not an option for Radiography Students
Radiography
Nuclear Medicine Technology
Diagnostic Medical Sonography
Echocardiography
Advanced Imaging Programs
Note: Prior completion of Radiography is required
Magnetic Resonance Imaging (MRI) (6 months)
Computed Tomography (CT) (6 months)
Interventional Cardiovascular (6 months)
Option 2 - Business Concentration
Note: This concentration is required for Radiography students and is optional for other clinical programs.
Qualify for mid-level positions requiring additional responsibilities in staff management or complex information systems.
Track Options
Organizational Management Track
Computer Systems Management Track
Three-Year Plan
Sample program of study for the radiological sciences major in the Women's College prior to clinical training (required for Radiography, recommended for all modalities). Students should select courses with the assistance of the program coordinator. (See course descriptions for a list of required courses and description of course and program options.)
Fall/Winterim
Spring

First Year

General Chemistry I

4

General Chemistry II

4

Calculus I

4

Intro. Psychology

4

Fundamentals of Biology

4

Interpersonal Communication

3

NDMU-100 Perspectives in Education

4

College Writing

3

200-level Philosophy

3

[16 credits]

[17 credits]

Second Year

Organic Chemistry I

4

Organic Chemistry II

4

General Physics I

4

General Physics II

4

Intro. to Biblical Studies

3

Literature

3

BUS302 Principles of Management

3

Business

3

Medical Terminology

3

Intro. to Microcomputer Apps.

3

[17 credits]

[17 credits]

Third Year

Human Anatomy & Physiology I

4

Human Anatomy & Physiology II

4

Business

3

Business

3

Business

3

Business

3

Medical Ethics

3

300-level Religious Studies

3

Basic Statistics

3

History

3

Physical Education

1

[16 credits]

[17 credits]
What to Expect Studying at Notre Dame of Maryland University
A strong foundation in core concepts and personalized advising for individual goals prepares students to be successful in their desired career paths.
Radiological Sciences Careers
Driven by an aging population and advances in technology, there is a great demand for professionals in this field.
Once you complete all academic and clinical programs, you are qualified to become a licensed medical imaging technologist by passing the national registry exam.
Accreditation