Liberal Arts
Major
The interdisciplinary liberal arts major provides an opportunity to design a custom program unique to your interests and career goals while still gaining a broad understanding and appreciation of the full spectrum of liberal arts subject areas.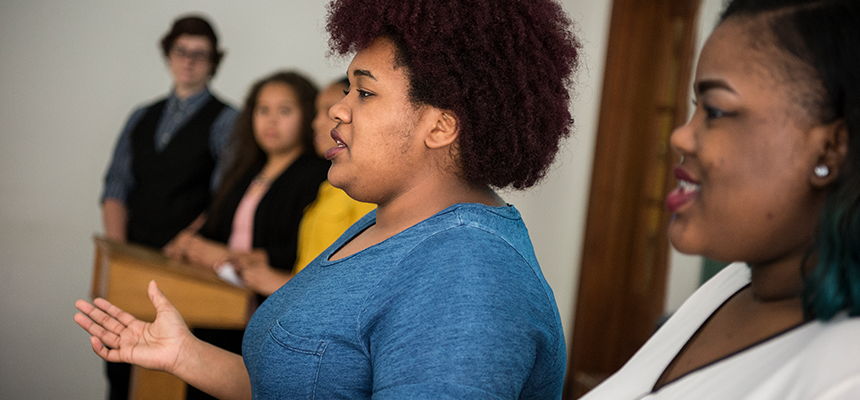 Program Locations
Available Majors
Select courses to meet your interests and goals through option A, B, or C.
Available Minors
Additional Study Options
Option A - Tracks
Women's College Tracks
Art
Economics
Philosophy
Biology
Education
Physics
Business
English
Political Science
Chemistry
History
Psychology
Classics
Mathematics
Sociology/Criminology
Computer Studies
Communication Arts/Digital Media Arts
Modern Languages
Music
Religious Studies
Adult Undergraduate Studies Tracks
Art (supporting track only)
Education
Computer Studies
History
Sociology/Criminology
Business
English
Religious Studies
Option B - Students Pursuing an MA in Leadership in Teaching
This option is open to any student, but is recommended for those who plan to continue to the Master of Arts in Teaching.
With the help of an advisor, you will choose two courses from each of the following:
English;
Science;
Mathematics;
Art or Music;
History or Social Sciences;
Plus two elective courses in liberal arts and EDU-402. Six of these 12 courses must be at the 300/400 level.
Option C - Area of Emphasis
Natural Sciences and Mathematics
Biology
Chemistry
Computer Studies
Mathematics
Physics
Social Sciences
Economics
Political Science
Psychology
Sociology
Criminology
Arts and Humanities
Art
Classical and Modern Foreign Languages
English
History
Music
Philosophy
Religious Studies
Professional Studies
Business
Nonprofit Management
Communication Arts
Digital Media Arts
Education
What to Expect Studying at Notre Dame of Maryland University
Small classes, lectures and seminars provide a climate for individualized learning while study abroad opportunities offer a global perspective.
Toggle between the photo and the story
Important Skills to Prepare for Med School
Alum, NDMU Class of 2019
Liberal Arts
Read story
Research & Internship Opportunities
Examples of internship and employment opportunities include:
Study Abroad
Through the School Sisters of Notre Dame and partnerships with universities around the world, language students can choose to study, intern, work, teach, or complete service projects abroad in short-term or semster-long programs.
Liberal Arts Careers
Management
Marketing and Communications
Public Service
Medicine
Law