Are you registered for Virtual Reunion? To prepare for the five days of fun, check out these tips.
Zoom Tips
If you are new to the Zoom platform, you might want to explore these articles to familiarize yourself on frequently-used parts of the program.
FYI: We will use breakout rooms twice during Reunion:
1. Wednesday's Class Night
2. Saturday's Alumnae and Alumni College
If you are ever logged in with both your computer and phone (for example, if you watched via your computer but listened via phone), there is a way you can link both devices so that if you move between breakout rooms, both of your devices will move with you: click the 3 dots in the top right corner of your video (the box where you see yourself) and click "merge audio" to link with your phone.
Zoom Preparation
If you're new to Zoom, we recommend practicing with a friend so you'll be comfortable in the Zoom space.
Device: However adept you are with the platform, we strongly suggest using a laptop, tablet, or camera-enabled desktop computer when accessing any part of Virtual Reunion. A cell phone does not allow you the capability to see everyone on the Zoom as you might like.
Lighting: When you're on camera, let's make sure we can see you. Adjust your lighting so that natural light or lamps in your space are in front of you. This will light your face so you can be seen on camera. If you have a window behind you or lighting behind you, you will be backlit…that is, your face will be obscured and difficult to see.
Clothing: If you are using a virtual background, try not to wear the same color as your background—or you'll just be seen as a floating head on the screen! Green-colored clothing will also act as a green screen…that is, your virtual background will bleed onto your shirt and the floating head thing will happen again.
Virtual Reunion Playlist
Music has the power to evoke strong memories. From your suggestions, we have built a Reunion playlist featuring songs from the last six decades. The playlist is available through Spotify: https://tinyurl.com/yyxtcvxv. We recommend listening to the songs in order as it will take you on a journey from the '60s to today! We hope you'll enjoy listening in advance of and during Virtual Reunion--just turn the music down when you're on the actual Zoom event.
Icebreakers
Some of the events you might attend will feature icebreaker questions. We thought you might like to prepare ahead of time. In addition to being asked to introduce yourself, you might be asked any of these questions during the five days of Virtual Reunion:
What, if any, new hobbies have you picked up in the last 7-8 months?
How did your Notre Dame education prepare you for your current career? Is there a faculty member you recall fondly?
What was your favorite Notre Dame moment?
What do you hope for the current Notre Dame student?
How will Class Night operate?
This is an invitation to connect with classmates and peers, share stories, and reconnect in a fun way. Based on registration numbers, Class Night will be divided into two parts: individual class meetings and decade meetings. The latter part of the evening will be extended an hour if conversation continues. You are welcome to jump in and out of any of the breakout rooms.
7:00-7:50 p.m. EST
Class Night Part 1: Individual Classes
If there are ten (or very close to it) or more registrants in a given class, that class will be pre-assigned their own breakout room. Classes who have ten or more registrants are: 1960, 1965, 1970, 1980, 1995.

If you are in another class but would like to visit with any of the above groups, please join us. You will not be pre-assigned, but will be placed in the breakout room of your choice upon arrival in the event's main room.
8:00-8:50 p.m. EST
Class Night Part 2: Decades
All Reunion registrants will be pre-assigned to a decade-specific breakout room. Once the event begins, you will be able to switch to a different decade if you would like to visit with others.
Breakout rooms will be held for these decades:
1950-59
1960-69
1970 (given their registration size, 1970 will have their own breakout room)
1971-79
1980-89
1990-99
1995 (given their registration size, 1995 will have their own breakout room)
2000-09
2010-20
What to do if you lose the email with all of the Zoom links...
Email ndmalum@ndm.edu. That account will be monitored by staff throughout Virtual Reunion. After confirming your registration, we will forward the email with all of the links.
Virtual Background
Zoom offers you an opportunity to load a virtual background.
There are a number of available NDMU-related backgrounds you can use for Virtual Reunion including this one: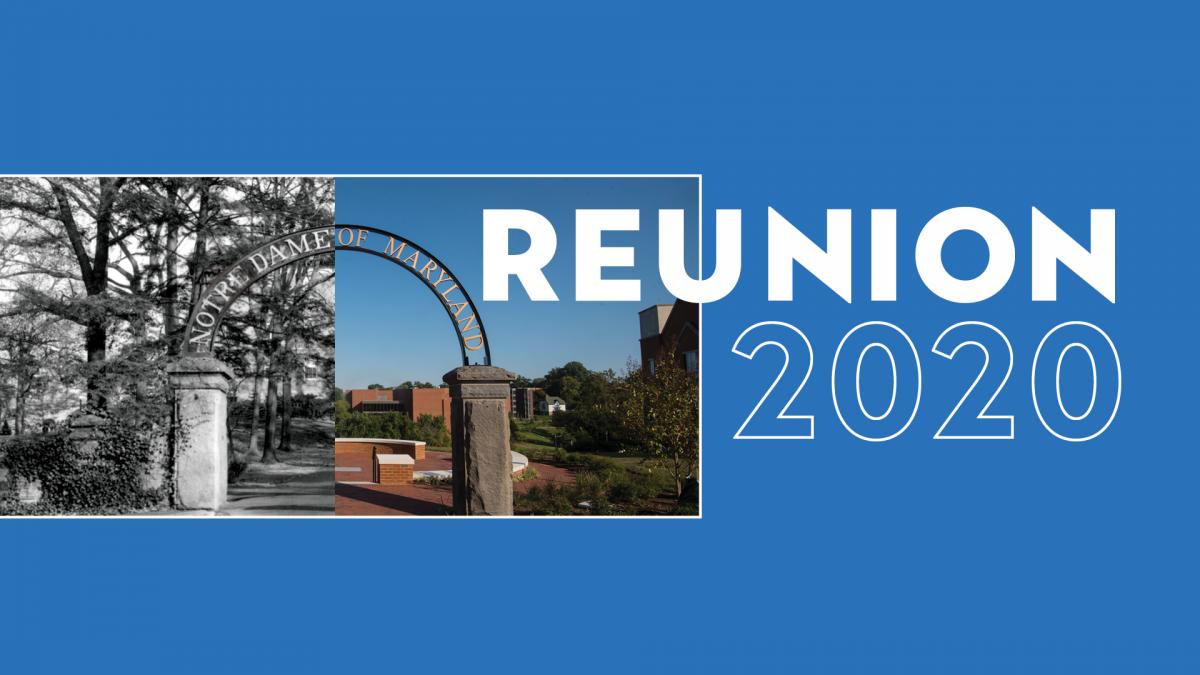 Simply download the image onto your computer and upload it to Zoom. A tutorial on how to upload a virtual background may be found on Zoom's website.