Thank you for including Notre Dame of Maryland University as you plan your end-of-year giving. Your gift allows Notre Dame to create a place where education and passion meet, a place where outstanding faculty come together with dedicated students, a place where people come to learn and grow before transforming the world. Notre Dame of Maryland University will be closed for the holidays, beginning Monday, December 24, and will reopen on Wednesday, January 2, 2019. However, the Office of Institutional Advancement will offer limited office hours during the holiday break and is available to facilitate your questions and year-end giving. Please contact Kelley Kilduff, Associate Vice President for Advancement, to ensure that someone is available to assist you. Kelley can be reached directly at kkilduff@ndm.edu or (410) 532-3185.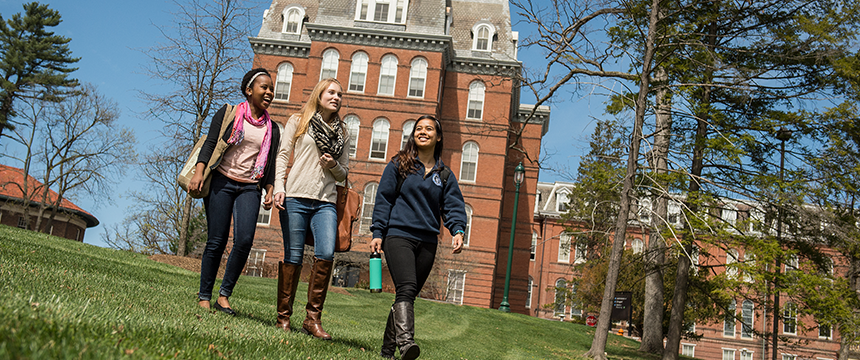 Please do not hesitate to email us at givendm@ndm.edu with any questions or for more information!
Giving is Easy
Credit card gifts can be made online through Monday, December 31, 2018 by midnight.
Give by Mail
Mailing a Check
Please check with your postal service regarding hours open on Monday, December 31, 2018.
Date your check on or before December 31, 2018, and be sure it is postmarked on or before December 31, 2018. Checks sent via the USPS must have a 2018 postmark. Please note that the last day the post office is open in 2018 is December 31.

Send your check via U.S. Postal Service to
Office of Institutional Advancement
Notre Dame of Maryland University
4701 North Charles Street
Baltimore, MD 21210
Checks should be made payable to Notre Dame of Maryland University
Making a Credit Card Gift by Mail
For tax purposes, credit card gifts must be received, charged and approved — not just postmarked — by Friday, December 21, 2018, 4:30 p.m. to count as a calendar year 2018 gift. This is for credit card gifts sent in the mail only.
Giving Stocks/Securities
For all gifts of securities, please email givendm@ndm.edu or call Kelley Kilduff at 410-532-3185.
Double—even triple—your gift!
Ask your employer—or your spouse's—if a matching gift program is offered for employees and retirees. Your gift plus your employer's match will count toward your gift total.
Gift matching is also a great way to gain membership in the Mary Meletia Society or boost Reunion class gifts.
Spread the word!
Urge your classmates to support Notre Dame! Email a classmate, use Facebook and Twitter—YOU are the best advocate for Notre Dame. Follow Notre Dame on Facebook and Twitter, and spread the word about the great things happening here!
Don't forget: All charitable gifts to Notre Dame are tax-deductible and receipts are provided for all gifts.
The Notre Dame Community thanks you for your support!