Reunion is a special time for graduates to support Notre Dame as a class.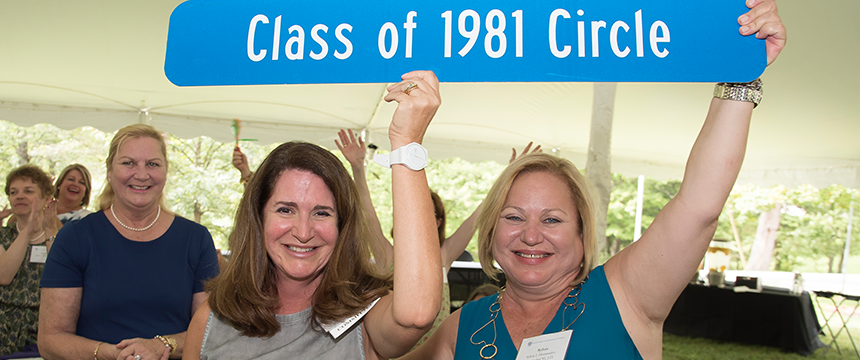 Each fall, Reunion celebrants are welcomed back to campus to offer graduates an opportunity to reconnect with all they love about Notre Dame. Celebrating every five year milestone, Reunion celebrants are invited to return to campus and enjoy a weekend of good times with great company!
Celebrate with a Gift

The Reunion Committee, made up of chairs from each celebrating class, encourages their classmates to support Notre Dame. To add some excitement, a (friendly) competition is held each year, and the winning classes will have a circle on campus named for them for an entire year! Win in one of the following categories:
Largest class gift
Highest participation rate in the class gift
Highest Reunion attendance
Maximize your Reunion Giving

Participation is what counts when it comes to Reunion Giving. Consider a multi-payment pledge or take advantage of the 16-month Reunion cycle with gifts in two fiscal years (or what some like to call a "double dip").
Double Dip
Notre Dame's fiscal year runs from July 1 through June 30. Make a gift in the fiscal year preceding your Reunion and another in July, August or September before Reunion, and both gifts will be counted toward your Reunion class total. In addition, you will be recognized as a donor in both fiscal years!
Don't forget that matching gifts count toward your Reunion giving as well, so check with your and your spouse's employer about their matching gift program.
Spread the Word

Once you've made your gift, support the Reunion committee by reaching out to your classmates! It is a great way to reconnect with your friends while advocating for Notre Dame. Get creative: use Facebook, Twitter, email, the phone, mail, an in-person visit—it all helps spread the word that you are proud of your alma mater, and you want others to support Notre Dame just as you have.
Volunteer
Want to help make your Reunion special for your class? Hoping to get back in touch with your classmates? Join the Reunion Committee!
We welcome volunteers and appreciate your interest in planning your Reunion. For more information, contact Aliza Ross, Director of Alumnae and Alumni Relations at 410-532-3184 or aross@ndm.edu.
Remember, every gift counts. Whether you can give $25 or $25,000, your participation and support will change lives at Notre Dame.