Summer courses are now open for registration!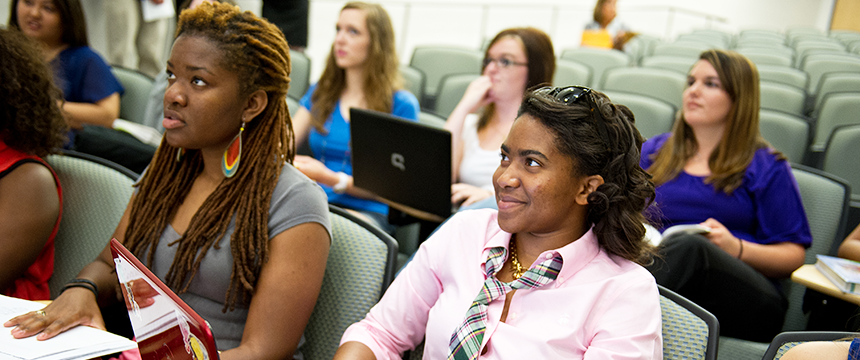 Summer Sessions and Winterim are great opportunities to fulfill general education requirements and get ahead in your major. Many students who take advantage of these additional terms have even completed enough credits to graduate early!
Sessions
Summer Full Term: May 21 - August 18
Summer Term 1: May 21 - July 2
Summer Term 2: July 9 - August 18
Financial Aid
A portion of your annual financial aid may be available for summer if you are enrolled at least half-time throughout the entire summer semester. (In some cases, Federal Pell Grant may be awarded if enrollment is less than half-time.)
Contact your financial aid counselor at finaid@ndm.edu or 410-532-5369 for more information.
Summer Benefits
Access to fitness center and library
Campus housing available
On-campus employment
Close to area internships
Opportunity to connect with international students on campus for the summer
Summer trips and activities
How to Register
Search for Course Sessions

Select "Students" tab
Click "Search for Sections" under the Registration section
Enter "Summer 2018 (Summer First 6 Weeks or Summer Second 6 Weeks)" under Term, "Main Campus" under Location, and "Undergraduate" under Academic Level and click Submit.

Register for your selected course(s).
Available Courses
Summer Full Term
IDS-361 Career Internship
IDS-461 Professional Internship
Summer Term 1 - 6 Weeks
BIO-104 Chesapeake Bay
BIO-273 Introduction to Biological Research
BUS-411 Topics in Business: Leadership's Darkside
COM-106 Fundamentals of Oral Communication
COM-401 Writing for the Web
EDU-300 Technology for Instruction and Management
EDU-357 Process & Acquisition of Reading
EDU-402 American Education in Historical Perspective
EDU-460 Assessment of Reading
EDU-491 Topics in Education: Human Development & Learning
HIS-228 World History Since 1500
HIS-346 History of Middle Eastern Politics
HOS-200 Topics in Hospitality & Events Management: Sustainable Eco Tourism in Baltimore
IDS-310 Service Abroad: Women in Leadership & Service
MAT-125 Elementary Math Models
RST-311 World Religions
SPE-337 Communication Skills for the Special Educator
Summer Term 2 - 6 Weeks
BIO-260 Genetics & Genomics for Clinical Practice
EDU-300 Technology for Instruction and Management
EDU-491 Topics in Education: Methods of Teaching Interdisciplinary Environmental Science
HIS-101 Dynamics of History
PHL-330 Ethics
RST-311 World Religions