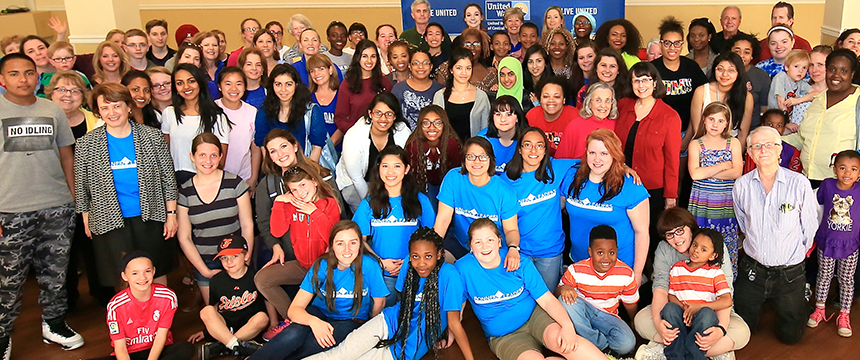 Inauguration Day of Service
Sunday, April 12
More than 100 Notre Dame students, faculty staff, alumnae and alumni and their children pitched in to participate in the Inauguration Week Day of Service.
Notre Dame partnered with the United Way for the Stone Soup project, in which we made 500 sack lunches that include PG&J sandwiches, trail mix, veggie packs for the residents of the Weinberg Shelter and My Sister's Place Shelter. The bags were decorated with crayon drawings and each lunch included a note for the recipient.
---
Evolution and Revision: Alumnae Art Exhibition and Reception
The Art of Sarah Butcher '80
Monday, April 13
This exhibition in the Civera Gallery features the work of Sarah Butcher, NDMU class of 1980.
---
Art to Science: Faculty Scholarship Installation and Opening Reception
Monday, April 13
This exhibition in the Loyola/Notre Dame Library showcases the publications, artwork, studies, and research of our dedicated faculty.
---
Lecture and Book Signing for "That it May be Well with You: The Founding of the House of Ruth"
Tuesday, April 14
As part of the Inauguration Week festivities, the Honorable Kathleen O'Ferrall Friedman '62 and Barbara Parker, Ph.D., gave a lecture on about the book they co-authored, "That it May be Well with You: The Founding of the House of Ruth," about this Baltimore institution that has served women who have experienced domestic violence and their children for nearly four decades. They were joined by Sandi Timmons, executive director of the House of Ruth Maryland, and held a book signing after the lecture.
---
Lectures by Dr. William Gutsch
Wednesday and Thursday, April 14 and 15
Dr. William A Gutsch is an alumnus of and a Distinguished Professor of the College of Arts & Sciences at St. Peter's University in Jersey City, N.J. He has conducted research in solar, stellar and galactic astronomy and astrophysics for NASA and the U.S. Naval Observatory and served as chairman of the American Museum-Hayden Planetarium in New York. He delivered three lectures during Inauguration Week: The Search for Extraterrestrial Intelligence; Bringing Art, Science, and Technology Together: The Magic of Movie Special Effects; and Astro-archeology.
---
Play by Play with Michael Yam:
Stories, Tips, and Practical Wisdom on Building a Rewarding Career
Thursday, April 16
Mike Yam, lead host for the Pac-12 Networks and son of our president, gave a great lecture on how to break into a journalism career. He advised students to seek out mentors: They can help connect you to networks of other people and opportunities. And he urged them to always say "yes" to work/internship requests, because more opportunities arise when you say "yes."
---
Additional Inaugural Events
Select an event to view a photo album.