Notre Dame of Maryland University will be hosting Women of the World: WOW Baltimore 2018 School Day on November 1, 2017 with Deborah Phelps as the emcee.
WOW School Day was incredibly successful in 2016. There were over 350 attendees who enjoyed an engaging and powerful day, giving young women the chance to celebrate their uniqueness. This year we will be welcoming up to 500 high school-aged young women and their chaperones from the greater Baltimore area public, independent, and parochial schools.
We welcome all schools from Baltimore City and the following surrounding counties: Anne Arundel, Baltimore, Carroll, Howard, Harford, and Prince George's.
What is WOW?
Women of the World: WOW is an international movement of festivals that celebrates women as a force for positive change and takes a frank look at the remaining barriers to gender equality.
Launched in 2011 in London, WOW festivals have engaged and inspired over one million women across five continents and cities in Australia, Egypt, India, Pakistan, the U.K., and, of course, stateside. Notre Dame of Maryland University is one of two WOW festival leaders in the U.S.
Learn More about WOW Baltimore.
School Day Events
The School Day events will include a keynote address, lunch, and special presentations on a variety of topics for young women.
Themes for the day could include, but are not limited to:
Confidence and self-esteem
Making change in your community
Mind, body, spirit wellness
Artistic and scientific energy
Dress Code
We invite you to wear what you would normally wear to school. If your school enforces a dress code, please adhere to those guidelines.
Featured Speakers & Performances
Deborah Phelps: Emcee
Deborah Phelps is widely recognized as an innovative, energetic and talented leader and master teacher with more than four decades of teaching and administrator experience. The proud mother of three children and grandmother of four, Ms. Phelps is the Executive Director of The Education Foundation of Baltimore County Public Schools, Inc. A highly sought after motivational speaker and recent author, Ms. Phelps addresses a range of topics related to education, child development, health and life lessons.
Over the course of her distinguished career, Ms. Phelps has developed a state-of-the-art food science lab, designed and implemented award-winning nutrition and food science curriculum and has been actively involved in the successful launch of two middle schools. Her dedication and commitment to excellence in the field of education has earned Ms. Phelps honors including Baltimore County Public School's Teacher of the Year Finalist, two-time Maryland Family & Consumer Science Teacher of the Year, and Baltimore County's "Baby Boomer of the Year" (2004), The Imagination Award: Understanding Hearts Celebrating Teachers and Other Heroes, the Healthier Moms and Babies Inspiration Award, and recognition in 2014 as one of Maryland's Top 100 Women. Ms. Phelps continues to serve the community through board leadership including a role as a board of directors member for the Michael Phelps Foundation.
Dr. Kate Biberdorf
Kate "Dr. B" Biberdorf was born and raised in Kalamazoo, Michigan. She earned a Bachelor of Science in Chemistry and German from the University of Michigan in May 2008.
Shortly thereafter, she relocated to Austin, Texas to attend The University of Texas at Austin for graduate school. She graduated in May 2014 with a Ph.D. in inorganic chemistry under the advisement of Professors Alan Cowley and Simon Humphrey.
She is currently employed as both a Lecturer and the Director of Demonstrations and Outreach for The University of Texas at Austin. She is a general chemistry instructor and am particularly known for developing explosive demonstrations that excite undergraduate chemistry students.
Outside of the classroom, she is often found at local Austin schools, promoting science education with my outreach program 'Fun with Chemistry'. You can watch her demos live on the first Tuesday of every month on MorningDose and the third Wednesday of every month on We are Austin.
Her ultimate dream is to become the next 'Bill Nye' - She wants to show everyone that you can wear heels and a skirt, and still discuss global climate change and nuclear energy. She aspires to motivate students of all ages to pursue a STEM related career, and she is currently working with Amy Poehler's Smart Girls to achieve this goal!
Haile Thomas
Haile Thomas is 16 years old, the youngest Certified Integrative Health Coach in the United States, an international speaker, vegan chef, and the founder/CEO of the nonprofit HAPPY (Healthy Active Positive Purposeful Youth). Haile founded HAPPY when she was 12 years old to address the need for free/affordable plant-based nutrition and culinary education in underserved/at-risk communities, as well as in schools and through annual summer camps.
Haile has personally engaged over 15,000 kids since beginning her activism in 2010. She was inspired to pursue this passion after her family successfully reversed her father's type-2 diabetes without the use of medication, only healthy eating and lifestyle choices, and upon learning that kids were also increasingly being diagnosed with conditions like diabetes, heart disease, and obesity. All of Haile's programs, projects, and initiatives, are geared towards engaging, educating, motivating and empowering young people to make healthy lifestyle choices to live their best life.
The Lady Hoofers Tap Ensemble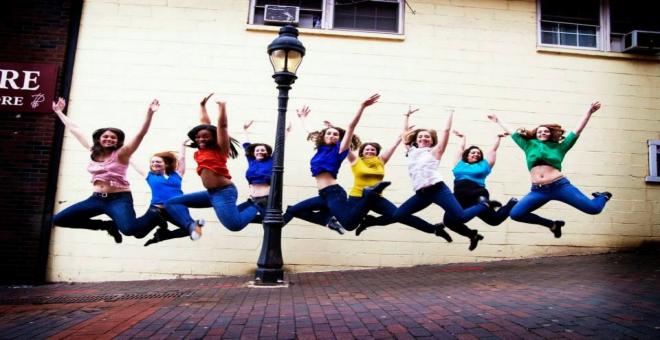 The Lady Hoofers Tap Ensemble is Philadelphia's premier all female professional tap company. Under the guidance of Managing Director, Katie Budris, and Artistic Director, Kat Richter, the ensemble brings together local dancers and musicians to raise the profile of rhythm tap by creating both original choreography and improvised works.
Past performance credits include the Kimmel Center, Philadelphia's City Hall, the Suzanne Roberts, the Painted Bride, the Wilma Theater, the Trocadero, and the Philadelphia Fringe Festival. The ensemble also performs at private functions and fundraisers. In addition to performances, workshops, residency programs, and lecture demonstrations, The Lady Hoofers Tap Ensemble hosts Master Classes taught by renown guest artists and weekly Open Company Classes.
QueenEarth
QueenEarth is a singer/songwriter and creative professional. In addition to performing her music, she has combined her passions to create courses, programs, and events that encourage social justice and arts education. She finds the greatest joy when she can bring her experience together for education, music, and creativity.
Schedule
8:00-9:45 a.m. Optional Sessions and Activities
Global Digital Classroom Sessions: 20-minute sessions are available for students to learn about a United Nations initiative and participate in an interactive experience. Prior registration is requested. Please contact Aliza Ross, Director of Alumnae and Alumni Relations, if you would like to participate in a session.
Campus Tour: Take a guided tour of the Notre Dame of Maryland University campus as you get ready for the day's programming. Prior registration is requested. Please contact Aliza Ross, Director of Alumnae and Alumni Relations, if you would like to participate in a session.
All Saint's Day Mass: Mass will begin at 9 a.m. and conclude by 9:45 a.m. Held in the Marikle Chapel of the Annunciation in Gibbons Hall.
10:00-11:00 a.m. Opening Keynote
Speakers include Dr. Clarenda Phillips, Debbie Phelps, and Hilary Corna
11:00-11:45 a.m. Lunch and WOW Activities
Enjoy lunch and a fun WOW festival preview of interactive activities.
11:45 a.m.-2:15 p.m. WOW Performances and Speakers
Featuring The Lady Hoofers, Haile Thomas, Dr. Kate Biberdorf, and QueenEarth
2:15 p.m. WOW School Day Concludes
Learn More
Contact Us