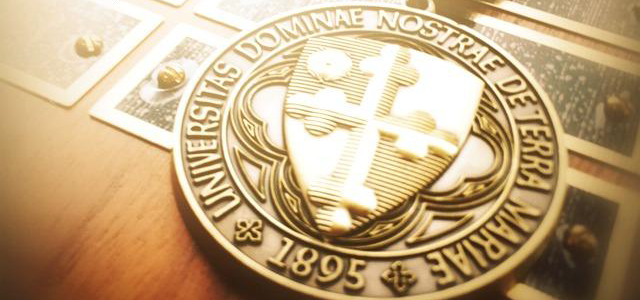 Submit your RSVP to attend!
February 12, 2019
Mass: 12:05 p.m. in Marikle Chapel
All are welcome to join in a special Mass on Notre Dame Day to pray together as a community that we will accept our call to "Empower and Engage" as leaders who are committed to the transformation of the world.
Recognition Ceremony: 2:00 p.m. - 3:30 p.m. in Doyle Formal (Please note location change.)
Recognition Ceremony followed by "Tell Me About It!: Engage in Dialogue, Empower Connection"
3:45 p.m. -4:45 p.m. in Doyle Formal
---
Notre Dame Day History
The first record of Notre Dame Day is in the handwriting of Mary Meletia Foley, SSND, and is dated March 25, 1901. It tells of a celebration highlighting the double dedication inherent in our name, which honors Notre Dame, Our Lady, and Maryland, our state. Happily, the two converge on one date: March 25, the Feast of the Annunciation of the Angel to Mary, and Maryland Day, the day colonists came to St. Mary's.
Thereafter, the day was observed intermittently, but a general pattern remained. In 1953, it became a structured experience in liberal arts education. Faculty and students participated in across-the-curriculum classes that placed Mary in the historical and theological context of her time and timelessness.
In 1968, the name changed from Annunciation Day to Notre Dame Day, and the focus of the classes broadened to include any choice of subject. This ended in 1971.
In 1989, the University revived the old custom. Today, Notre Dame Day is a time to celebrate our common purpose, to remember our rich heritage, and to recognize the achievements of the University community.
Fall 2018 Dean's List
Osirekhai Agabi
Gina Alfano
Farah Ali
Ashley Anderson
Kirsten Anderson
Kaitlyn Angell
Amirah Arafat
Fidelia Asomani
Aisha Azhar
Dana Baird
Gerriza Balmes
Laker Barber
Heather Barry
Alanna Bater
Michelle Bengel
Myra Beyene
Bhavya Bhardwaj
LaTajah Birdsong
Maria Blaszkiw
Chelsea Boyd
Marley Brettschneider
Kamiya Britton
Jodie Bronushas
Emily Brown
Tram Anh Bui
Jillian Bulaong
Taylor Burnett
Katharina Bussey
Pakeeza Butt
Taylor Bynion
Leanne Alexa Cagape
Andrea Calalang
Hannah Campbell
Christy Canjura
Katie Cardinal
Cassandra Carlson
Miranda Carter
Elizabeth Chapin
Fatima Chaudhry
Emily Cherry
Catherine Chiarizio
Paris Clinton
Don'she Cloude
Helen Contreras
Haley Cook
Amy Cote
Isabella Dallasta
Valentina Dallasta
Jessica Deinlein
Kimberly DelRosario
Sarai Diaz
Abigail Dibert
Margaret Doll
Cathryanna Dorsey
Vanessa Dunn
Mai Eltabak
Mary Emami
Minosh-Alexia Enyeji
Andrea Faulknor
Gemma Feild
Sierra Fenwick
Dayana Flores
Cassidy Foard
Bisola Folorunsho
Bria Foster
Andreina Franco-Ramos
Casey Franks
India Frederick
Makeima Freeland
Alexa Garcia
Catherine Garcia
Alexis Gentry
Elizabeth Grasso
Sharon Green
Alexandra Grimm
Jerry Groves
Rhea Lynne Guzman
Renee Hajnik
Kelani Hall
Katelyn Harold
Molly Havens
Megan Heinrich
Ivory Hemphill
Leslie Hernandez
Tiara Hines
Julie Hipp
Danielle Hirsch
Maria Holt
Cristina Rosette Jimenez
Jessica Johnson
Sureena Johnson
Esther Jones
Karin Jones
Emma Jordan
Erika Kaschak
Alyssa Kerns
Ellen Kershaw
Darby King
Madison King
Elizabeth Kirkpatrick
Christine Kruse
Maria Kyriacou
Kayla Lajara
Alyssa Larison
Eden Lewis
Jordan Lewis
Pei-Ru Li
Diane Lilley
Hsin-Yu Lin
Camyll Long
Ruth Lukyanenko
Lisette Martinez
Svetlana Martz
Maya Mason
Kristie Mattingly
Georgia Mavrophilipos
Amaiya Mbatu
Abigail McDade
Kirstin McGee
Jordan McKeldin
Jabrena Milburn
Megan Morales
Alexis Morgan
Keira Mull
Hannah Mullaney
Alexandra Mumma
Susan Neidhardt
Caleigha Neil
Sherry Nindow
Chinwendu Nwokeabia
Caroline O'Donnell
Katelyn Ogle
Victoria Oji
Jenice Clare Olo
Uloaku Onwumelu
Kaitlynne Ouellette
Eric Fausto Pagdanganan
Loren Pardoe
Eryka Parham
Octavia Parker
Prutha Patel
Taylor Pazienza
Kristina Pickering
Colette Pierce
Kimberly Platt
Emily Poist
Maria-Gayle Prieto
Jessica Profilio
Emily Przyborowski
Lindsey Pytrykow
Kristin Raley
Lyndsay Rehak
Catherine Riungu
Nataly Rivera
Christine Anne Roa
Nicol Rodriguez
Ethan Ropel
Kara Russell
Janelle Joy Sangalang
Christina Schell
Michaela Seay
Rose Sebastian
Michaila Sheedy
Katelyn Shields
Mindy Shore
Adrienne Shuman
Djeneba Sidibe
Hannah Siegert
Samreen Silwal
Megan Slaughter
Marion Smedberg
Lorelie Soriano
Michael Spargo
Summer Stevens
Ashley Stinnett
Sarah Sweet
Gabrielle Thompson
Bintou Timbine
Miranda Tipton
Gabriela Torres
Caitlyn Trent
Allison Trumpler
Sarah Urie
Sierra Vancek
Vanessa Velazquez
Katelyn Walker
Lindsey Walker
Queanna Walker
Justice Walrath
Mary Claire Waterman
Khya Watkins-Lemon
Kashay Webb
Jessica Wells
Kyrston West
Jazmin White
Kaliah White
Jessica Whitecar
Alyssa Wilkerson Dietz
Tavia Williams
Jessie Willinghan
Madison Wood
Hannah Woodworth
Sarah Yatty
Andrea Zuluaga
2019 Award Recipients
Distinguished Staff Award: Dawn Bradshaw
SSND Mission and Ministry Award: Mary Alice Adams
Service-Learning Faculty Advocate Award: Juliann Dupuis
Student Service Award: Nia Willis
Mary Anne O'Donnell Team Academic Achievement Award: 2017-18 Lacrosse Team with a cumulative team GPA of 3.391
Departmental Awards:
Art- Caroline O'Donnell
Biology- Keira Mull
Business & Economics- Megan Morales
Chemistry- Lilly Gordon
Communication Arts- Darian Barton
Criminology- Alexandra Guerrero
Education- Sierra Vancek
English- Katie Cardinal
History/Political Science- Tavia Williams
Mathematics- Marion Smedberg
Modern Foreign Language- Christine Roa
Nursing- Heather Barry
Philosophy- Tavia Williams
Physics- Sarah Hasnain
Psychology- Chinwendu Nwokeabia
2018 Award Recipients
Distinguished Community Service Award: Bishop Denis J. Madden
Distinguished Staff Award: Michelle Evans, Director of Student Engagement and Community Programs
SSND Mission and Ministry Award: Marylou Yam, President
Service-Learning Faculty Advocate Award: Stephanie Savick, Professor, School of Education
Mary Anne O'Donnell Team Academic Achievement Award: 2016-17 Soccer Team with a cumulative team GPA of 3.547
Departmental Awards:
Art- Sabine Hern-Nagle
Biology- Bhavya Bhardwaj & Renee Hajnik
Business & Economics- Serena Soutar
Chemistry- Victoria Oji
Communication Arts- Molly Wolanski
Criminology- Victoria Cox
Education- Madison Mildenberger
English- Courtney Strength
History/Political Science- Shannon Edwards
Mathematics- Chinwendu Nwokeabia
Modern Foreign Language- Gerriza Balmes
Nursing- Brenda Diazdelvalle
Philosophy- Robyn Githui
Physics- Sarah Hasnain
Psychology- Abigail Gaver
2017 Award Recipients
Distinguished Staff Award: Mary Burch Harmon
SSND Mission and Ministry Award: Brian Berry
Service-Learning Faculty Advocate Award: Maria Mouratidis
Mary Anne O'Donnell Team Academic Achievement Award: 2015-16 Swim Team with a cumulative team GPA of 3.408
Many thanks to our Notre Dame Day 2019 Committee members for their assistance with planning this great traditional event!
Notre Dame Day 2019 Committee
Tiffany Bailey
Melodie Barton
Bhavya Bhardwaj, Class of 2019
Valentina Dallasta, Class of 2020
S. Paula Dukehart, SSND
Michelle Evans, Chair
Kelly Hoover
Diana Liz-Cabrera
Kiera Mull, Class of 2021
Janelle Sangalang, Class of 2022
Gary Thrift
Additional gratitude to members of Conference Services, Custodial Services, Facilities, and Dining Services for their assistance in Notre Dame Day 2019!