Each year, Notre Dame brings women leaders in business to campus to share their insights on a broad range of professional fields, and stories of their career paths.
2017 Speaker: Donna Orender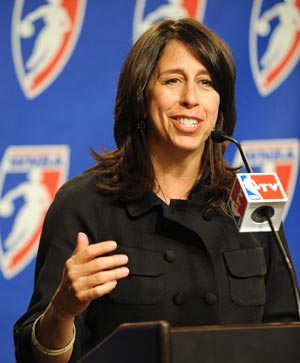 Tuesday, April 18, 2017 at 7:00 PM
Knott Auditorium
Free and open to the public.
Notre Dame's 2017 Busta Lecture in Business welcomes former WNBA President and PGA Senior Vice President Donna Orender. She is the founder and CEO of Orender Unlimited and a distinguished trailblazer in women's athletics and business.
Having earned all-star status as a player in the Women's Professional Basketball League, Orender served from 2005 to 2011 as president of the WNBA, and previously as Senior Vice President of the PGA Tour. She is also the founder and CEO of Generation W, a non-profit platform aimed at promoting the development of the world's next female leaders.
About the Lecture Series
The Charles J. Busta III lecture series is designed to showcase the thoughts and experiences of business leaders, especially women leaders, in order to encourage creativity and personal growth in women. The series was created in memory of Charles J. "CB" Busta, a Notre Dame trustee and marketing executive who died in 1999.

All individuals invited to speak are recognized in their chosen fields. We seek inspirational professionals of integrity who have made a real difference, overcome significant obstacles, or delivered dramatic, unexpected success. We especially seek women professionals with these credentials in order to present strong role models who can set a standard of achievement for Notre Dame students.
Our invited speakers are chosen based on a strong set of credentials including:
Leadership
Creativity
Innovation
Humor
Competitive Spirit Balancing Business, Personal and Spiritual Life
Past Speakers
2016: Shira Shafir, Director of Social Innovation and Impact at TOMS
2015: Insights from Women Leaders in STEM: Inspiring the Next Generation
2014: The Arts Transforming Communities
Marin Alsop, Music Director of the Baltimore Symphony Orchestra
Doreen Bolger, Director of the Baltimore Museum of Art
Rebecca Hoffberger, Director of the American Visionary Art Museum
Julia Marciari-Alexander, Executive Director of the Walters Art Museum
View the Lecture
2013: Cindy Wolf, Executive Chef of Charleston restaurant and a partner in Foreman Wolf
2012: Patricia M.C. Brown, Esq., President of Johns Hopkins HealthCare LLC and Notre Dame trustee
View the Lecture