Psychologist Continuing Education
Continuing Education
The APA approved continuing education seminars are relevant for all mental health disciplines including psychology, professional counseling, social work, and psychiatry.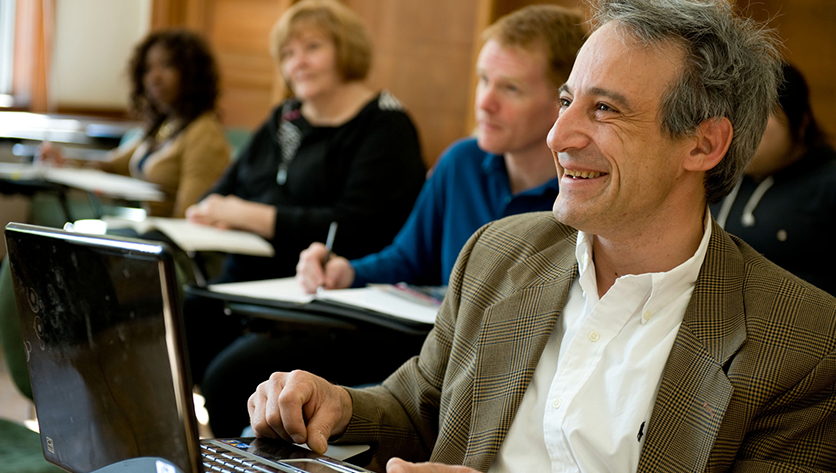 Program Locations
Class Times: Fridays, 9:00 a.m. to 12:00 p.m.
Location: NDMU Knott Auditorium
Cost: $89 (Late registration is an additional $25)
Speakers are selected and program content is developed that respect cultural, individual, and role differences, including those based on age, gender, gender identity, race, ethnicity, culture, national origin, religion, sexual orientation, disability, language, and socioeconomic status.
Session Dates
October 13, 2017: Dialectical Behavior Therapy for Substance Use Disorders

November 10, 2017: Toward a Brain-Based Psychotherapy

January 12, 2018: Psychological Needs and Care of Immigrants and Refugees

February 9, 2018: Managing Risk in Everyday Practice: The Ethics of Being a Mental Health Clinician in the Real World
Seminar Topics
Dialectical Behavior Therapy for Substance Use Disorders
Dialectical Behavior Therapy (DBT) is a specialized behavior therapy that treats patients who suffer from disorders related to emotional dysregulation. Emotional dysregulation is a component of substance use disorders. DBT is based on a dialectical worldview and balancing acceptance and change. As a treatment, DBT focuses on restructuring cognitions to be more in alignment with a dialectical worldview and treats motivational and skill deficits which interfere with patients' effective living. This continuing education seminar is designed to provide clinicians with the theoretical framework of DBT with a specific view of substance use disorders through the lens of DBT. Participants will learn how to use DBT approaches in the treatment of substance use disorders. Since DBT is an ancillary treatment, approaches for integrating DBT into a comprehensive treatment plan will be discussed.
Learning Objectives
At the conclusion of this seminar, participants will be able to:
Participants will articulate the key concepts of the dialectical philosophy
Participants will describe the components of DBT treatment model
Participants will conceptualize substance use problems with dialectical behavior theory
Participants will apply dialectical behavior therapy principles and practices to substance abuse treatment approaches
Dr. Maria Mouratidis
Dr. Mouratidis is a licensed psychologist, professor and chair of Notre Dame's department of psychology. She received her both her undergraduate and masters degrees in clinical psychology from Loyola University Maryland. She received her Psy.D. from Argosy University. Before coming to Notre Dame, she was a member of the faculty at Yale University and served the Department of Defense as a civilian psychologist providing psychological services to our wounded warriors and their families, training professionals, educating leaders, and helping to develop policy. Dr. Mouratidis is well published and considered an expert in the areas of trauma, traumatic brain injury, and dialectical behavior therapy (DBT).
She has been awarded professional distinctions, serves on the Board of Directors for the Howard County Mental Health Authority, serves on several national science boards. Dr. Mouratidis has developed and led DBT programs at multiple institutions, teaches DBT at the undergraduate and graduate level, and provides training and supervision in DBT for mental health professionals in a range of clinical settings.
Toward A Brain-Based Psychotherapy
In recent years, literature in the fields of psychology, psychiatry, and neurology has increasingly come to focus on the role of the brain in psychotherapy. Various theorists and researchers propose mechanisms to explain how emotional disturbances reflect brain function and dysfunction, as well as how psychological treatments modify brain activity to reduce symptoms and improve quality of life. In this program, Dr. Windisch will focus on the ways effective psychotherapy relates to brain circuitry and function. He will discuss a number of models of mind-brain-behavior integration, as well as the findings of new neuroimaging techniques that reveal specific brain changes associated with change in psychotherapy. He will present a general model of the psychotherapy process that is based in and seeks to modify brain functioning to achieve results. This seminar will have theoretical, research, and practice-oriented components.
Learning Objectives
At the conclusion of this seminar, participants will be able to:
Explain the role of the brain as an adaptive organ in emotional disorder and psychotherapy.
Articulate a model of psychotherapy that takes into account modern neuroscience concepts, including neuroplasticity and functional brain circuitry.
Discuss the functional brain changes associated with psychotherapy, as revealed by neuroimaging studies.
Recognize the role of attachment processes in the psychotherapeutic change process.
Dr. Windisch
Dr. Windisch received his B.A. in psychology from the University of Pennsylvania and his Ph.D. in clinical psychology from the University of Michigan. He has also earned a J.D. from the University of Maryland School of Law and an M.B.A. from the Robert H. Smith School of Business at the University of Maryland. From 1985 to 1988, he served as an assistant professor of psychiatry at the University of Maryland School of Medicine. From 1988 to 2000, he served in various administrative positions at Medstar's Franklin Square Hospital Center, including director of psychology and behavioral medicine and director of outpatient psychiatry services. Over the course of his career, Dr. Windisch has practiced clinical psychology and neuropsychology. His office is currently located on the grounds of the Sheppard and Enoch Pratt Hospital, where he provides consultations to in- and outpatients.
Psychological Needs and Care of Immigrants and Refugees
Over the past five years we have seen the mass movement of immigrants and refugees around the world, Here in the United States, and in Maryland, we are home to immigrants and refugees from dozens of countries. They come here for many reasons: economics, war, safety, or ad desire for a better life. Each immigrant brings an individual world of culture, experiences, and needs. However, there are some common psychological experiences and needs as well. The purpose of this seminar is to assist mental health professionals in developing the knowledge and skill set to work effectively and in a culturally relevant way to address the psychological needs of immigrants and refugees.
Learning Objectives
At the conclusion of this seminar:
Participants will have an understanding of the US and International Immigration systems. Participants will be able to explain how the immigration system interacts with the experiences of immigrants to create exacerbated difficulties for those dealing with trauma, stress, mental disorders, or acculturation.
Participants will explore some of the core challenges of immigrant and refugee populations and their relation to the development of emotional, behavioral, and psychological problems.
Participants will be able to make use of information provided during this seminar to provide individualized, effective, and culturally sensitive mental health services to immigrant and refugee populations.
Participants will have an understanding of special issues within services immigrants, such as use of interpreters, children's services and child welfare, and emergency planning.
Anne Middaugh, Ph.D
Anne Middaugh, Ph.D. received her doctoral degree from The George Washington University. She has spent the majority of her career working in the public sector with individuals with serious mental illness. Since 2000, Dr. Middaugh has provided assessment, treatment, and consultation to individuals who are immigrants to the United States. She has provided clinical consultation for care for undocumented and unaccompanied children across the country. Dr. Middaugh has trained nationally in the area of the impact of trauma and cultural displacement for immigrants.
Managing Risk In Everyday Practice: The Ethics of Being a Mental Health Clinician in the Real World
Sure, all mental health clinicians licensed in Maryland are required to take continuing education on the topic of ethics. But don't you want to go beyond just reviewing basic concepts you learned back in graduate school and when you were studying for your licensing exams? In this seminar we will take those somewhat sterile academic concepts and apply them to your practice. We will discuss a multi-factorial model of ethical reasoning and concrete steps to improve risk management that you can implement the day you return to your office. The seminar will be structured as an interactive exercise rather than using an "ask the ethicist" format, so be prepared to be actively engaged and ready to think and discuss some tough, real life situations with your colleagues.
Learning Objectives
At the conclusion of this seminar:
Participants will analyze and apply a multi-factorial model of ethical reasoning
Participants will recall and make use of relevant Codes of Ethics and State laws and regulations
Participants will analyze and apply a three-step model of risk management
Participants will critique their own methods of risk management and implement changes to their practices
Dr. Michael Heitt
Dr. Michael Heitt is a licensed psychologist in private practice. The primary focus of his clinical and consultative activities center around working with physicians, executives and other professionals who are dealing with personal and occupational challenges. He frequently consults to small and mid-size companies on a variety of workplace and organizational issues, and is recognized by local Courts as being an expert witness in Clinical Psychology.
Dr. Heitt has presented internationally on topics ranging from workplace violence and professional impairment to human resources and personnel development, as well as topics such as psychological ethics, disaster psychiatry and clinical assessment. He is a current member and former Chair of the Maryland Psychological Association's (MPA) Ethics Committee the former Chair of the Colleague Assistance Program.
Dr. Heitt earned his doctoral degree in clinical psychology from the Illinois School of Professional Psychology in Chicago in 1996. He has served on the faculty of the Johns Hopkins University School and Loyola University Maryland. Additionally, he is the instructor for the Maryland State Jurisprudence Licensure Exam preparatory course offered by MPA and an on-line ethics course on boundaries.
APA Approved
Notre Dame of Maryland University is approved by the American Psychological Association to sponsor continuing education for psychologists. Notre Dame of Maryland University maintains responsibility for this program and its content.
Cancellations
May cancel one week prior to the event with a $30 cancellation fee.
University Closings
If the University is closed for inclement weather, or any other reason, class is cancelled.
Accommodations
Any ADA accommodations must be requested at least two weeks prior to the event.